Lily suffered sudden cardiac arrest while swimming in her pool in July 2012. She went without oxygen for an estimated 11 minutes. Lily continues her recovery from the resulting anoxic brain injury.  She is now 11 years old.
Here is her story.
On July 8, 2012. many lives were forever changed. It was a typical summer Sunday. The girls were recently out of school and summer was just getting started. Golf camps, surf camps, Vacation Bible School and an annual camping trip to Big Sur were approaching. Not to mention relaxing days at the beach and in our backyard pool with family and friends. Life was good.
4:21 pm
My sister and her family came over for a belated birthday celebration for my brother-in-law. It was to be a day of splashing in the pool and grilling pizzas on the barbecue. It started off like any typical pool gathering. Lily and older cousin Lydon, were perfecting their jack-knife technique while jumping off the top of the pool waterfall. (Something she has done a thousand times). All eight of us were in and around the pool at the time of Lily's last jump. (Thank God).  Auntie had her underwater case on her iPhone and caught everything on video, including the accident.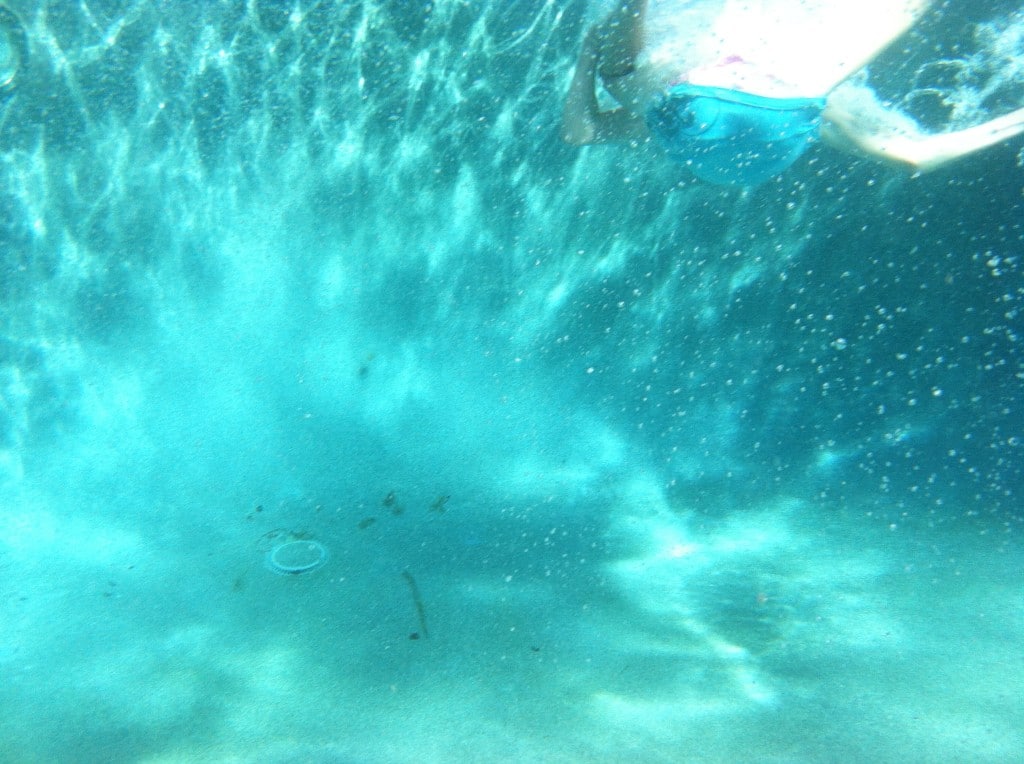 4:22 pm
That's Lily as she showing us her spectacular jack knife dives, she's on her back arms to the side, holding on to her right knee, feet above the water. Lily was especially wired that day, with tremendous enthusiasm, taking her dives very seriously.
4:28 pm
The next jump she landed on her back again, you can here my sister (on the video) asking if she's OK, it looked like it would have hurt. Her head popped up out of the water and she smiled and said she was OK as she swam towards the edge of the pool.  Just a few strokes short of the edge, she froze and as she fell backward sinking into the pool. Something was wrong. We asked her cousin standing above her at the edge was she OK? He shrugged. Within seconds Jim flew in and pulled her out of the pool. I ran to them and after what I saw and the sounds coming from Lil. My first thought was that she was having a seizure.  I remember was my brother-in-law yelling "CALL 9-1-1!, CALL 9-1-1!"
Lily's uncle performed CPR but intermittently had to stop at the 9-1-1 operators request, she was motionless as her face began to turn blue. She seemed to take some breaths but we could barely find a pulse. Time stood still. It just didn't seem real, it was all happening so fast.
By the time the paramedics (aka our angels) arrived,  several minutes had passed.  We knew the paramedics, Lily would always get her gold fireman stickers from the same guys as they shopped the local grocery store. Here they were now saving her life.  After some what appeared to be violent CPR, and double defibrillation shocks, Lily had a weakened pulse of 32.
Lily was rushed to the local hospital in San Clemente. There doctors frantically worked to keep her stable and get a CT scan. While Lily went for her CT scan Jim and I poked our heads in the waiting room to acknowledge Jim's parents—that's when we heard those two words I'll never forget, "Code Blue, CAT Scan." Lily had gone into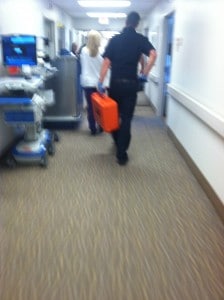 cardiac arrest for the second time.  A security guard found us and we were able to be with her. I called out her name, asking her not to leave us.  Seconds later, her heart rhythm was restored.  Quick scan revealed she did not suffer any blunt force trauma that we may not have witnessed when she entered the water. She was immediately taken up the road to CHOC at Mission Hospital where she would be in the best hands for acute critical care. The plan, pray she makes it through the night and stable enough for one more transport further up the road to CHOC Orange, at the crack of dawn to avoid commuter traffic. She made the trip and was admitted to PICU, room 618. She remained in that room for an entire month.
After several heart studies, ICD surgery, MRI's, countless EKGs and X-rays Lily moved to less critical care on the 5th floor. Where we were on borrowed time to find Lily's next home away from home (the hospital and insurance was pushing us out to take Lily home). After CHOC we moved to Miller Children's Hospital in Long Beach for 11 weeks, she was accepted in the rehab program. Unfortunately, Lily spent several of those weeks in and out of the PICU for a variety of issues. Once again, insurance was pushing us out of the program. This time we knew we were not going to win the fight so we decided to "Let Go, and Let God".
On October 17, 2012 Lily went home.
Since Lily's been home she has continued to improve and progress. She continues to amaze us all with her spirit and her physical progress. I can only speak for myself but life has changed in so many ways.  I've lost and gained. I've learned so much. I learned about the human body from doctors, nurses, therapists and specialists yet I've learned so much about human nature from strangers, family and friends. I've learned that it's hard for some to deal with life altering events and extreme sadness. I understand but sometimes I also wonder why when we're the ones in the trenches. But I'm learning and I'm trying to be more understanding. (The last thing I want to do is push anyone away). How some people don't know how to talk to her because she's in a wheelchair or think that she's not mentally there because she isn't talking back. How I've had to learn the "system" and fight for services and education. How every day is Groundhog Day. How isolating our world has become and every day I search for something to break the monotony. How I feel solely responsible for her happiness. How hard Lily works and how she desperately strives to get better by doing hours and hours of therapy, 7 days a week. How I've had become two different mothers; one for Lily and one for Charlotte. How it has challenged Jim and I, I miss sleeping next to him at night (we trade off being with Lily every night). How I lay awake at night watching Lily's heart rate monitor to see if she's sleeping or awake or if she's in pain. How I feel I can't relate to anyone and the outside world most of the time. How lucky and thankful I am to be Lily's Mom but at the same time this means that I hurt deeper than anyone.
But like my aunt always told me the pendulum swings both ways. There are those who have brought so much love and support to our family that I cannot find the words to express my gratitude. The posts and notes and prayers from all over the globe mean everything. We are so blessed with unbelievable family, friends, classmates and fellow parishioners who have been there for us through these 12 months.  Lily has shown and taught me so much. She is my inspiration. She has been knocked down time and time again but she keeps getting back up and fights on. She has brought me closer to God. She's shown me the goodness in people. I'm learning to let go and stop trying to control outcomes and to fully trust in God. The practice of patience, everything happens in God's time. To live in the present; not the past or future. All we have is today, here and now. And I'm forever grateful that at this moment Lily is sitting next to me, laughing, smiling, and breathing.
Life is moving at a different pace these days. It has been very busy with lots of ups and downs. I'm happy to report that Lily continues to progress every day. She seems to be consistently connecting more with her body. She has quicker responses and reflexes; she even seems to be ticklish again. One area we have been focusing on is her digestive system and oral eating. We have been able to cut a 5th of her formula (tube feeding) so far because she is eating by mouth at least twice a day. Our hopes are to get her enough calories through oral food and take her off tube feeding altogether. It is not an easy task. Lily's feeding tube goes into her intestine; not her stomach. She also has a g-tube in her stomach that we vent 24/7 because she has bad reflux. So it's a delicate balance closing off the stomach tube after she eats long enough for digestion without her vomiting from the reflux. This will take much more time than we anticipated . . . but that's OK, we have started the process . . . we'll get there.
We have been working with the local public school district over the last 8 months. (Yes, you read that right . . .  ugh). We are STILL trying to come to an agreement on what support Lily needs. It is our hope that we will begin school instruction at home in January. Once everything is settled I will be more detailed and hope to post about this process and what families NEED TO KNOW. (Deep breath)
Lily is gaining more strength daily. And Jim and I have been able to continue decreasing her Baclofen (spasticity medicine). She started on 40 mg 4x/day and we are down to 20mg 3x/day . . . this is a true testament that she is getting better! She is still doing about 18-20 hours of therapy a week. Much of the therapy is Neuro based. And her swallowing has improved so much that her therapists no longer feel she needs vital-stim (electronic muscle stimulation during swallowing). She is sitting independently during therapy and requires little assistance most of the time. We are also beginning to finally use her eye-tracking computer for communication now that we have some outside support. It truly is amazing to see her progress. I know most do not see it but when you break down the components of walking (for example) and see that when gravity is taken away that she is able to MOVE HER BODY! For many out there (including other therapists) they see Lily still sitting in her wheelchair and they think to themselves, Is she walking? No. Is she talking? No. Is she waving her arms? No. But what most do not understand is that when you break down each movement, take away gravity and allow her to feel her body move she can do it!
The bottom line is that her brain CAN send the signal!
She also continues her hippo therapy (horseback riding) at the Shea Center. And has Speech therapy with her special pony, Bliss. These two have a very special connection.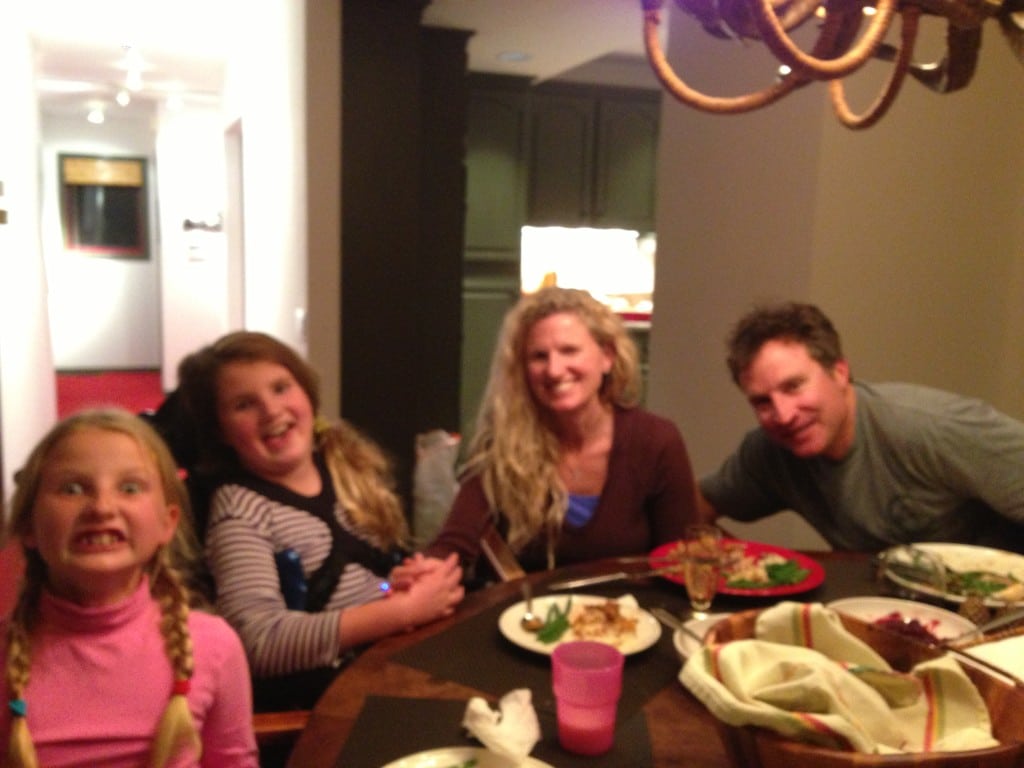 We continue to visit her school, Our Lady of Fatima, weekly. We have enjoyed Science Lab with her 5th grade class with one of her favorite teachers, Mrs. Ayer. Lily is extremely motivated by her friends and peers.
Lily's biggest cheerleader continues to be her little sister, Charlotte. She draws pictures and writes notes to Lily almost daily. She adores her big sister. She loves her so much and misses her playmate dearly . . . we all do. Everyday our hearts ache to hear Lily's voice or feel her embrace. Sometimes I look at her and forget that she is the same girl . . . the pain never goes away or gets easier.
We have managed to take some needed family time away from home. We have made trips to Mammoth each month, including over the Thanksgiving break. It was great to be with extended family for the holiday. We plan to stay home and spend a lot of time with family over Christmas and then off to mammoth for New Year's.  Thank you for your continued prayers and support for Lily and our family. May you be blessed with good health, peace and love this season and throughout 2014.