Today we give thanks for all of our blessings. This year we have experienced such heartache and grief yet we have been so blessed at the same time. We are grateful that Lily is alive, that we are together again at home, that we are healthy, that we have a roof over our heads and food in our cupboards and all the love, support and unwavering strength from YOU; our incredible family and friends.
Last Friday Lily attended "Special Persons Day" at her school. Charlotte really wanted her to attend as her special person. It was a great experience. Lily was all smiles and the schoolmates loved seeing her, too. We hope to visit her school more often whenever her busy schedule allows.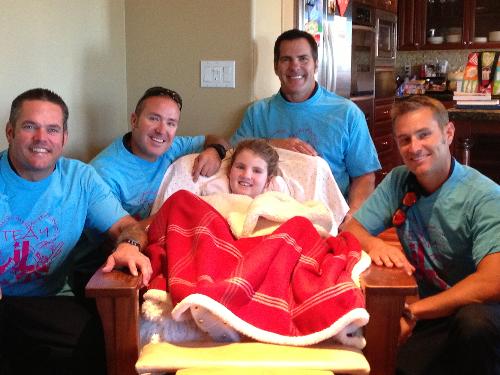 We received a lovely Thanksgiving gift today. Lily's angels from San Clemente Fire Station 59 stopped by for a surprise visit. It was the first time they're seen her since July 8th.  It was so special to see them all (Brian we missed you and send you our best!). They are the first official members of TEAM LILY (check out their shirts–stay tuned on how to get yours!)
Happy Thanksgiving to all you and your families.
God bless you all and thank you for everything . . . we are forever grateful.
-Leslie